Richard Vobes - Public Speaker
I wear many hats as you shall discover. I am TV's Bald Explorer. I am a presenter, children's author, entertainer and filmmaker. You can find my work all over the internet as well as on the traditional television. Watch me exploring the UK's wonderful history on the Community Channel, a TV station on Freeview, Sky and other digital platforms. (Find out more by taking a look at my promotional video below.)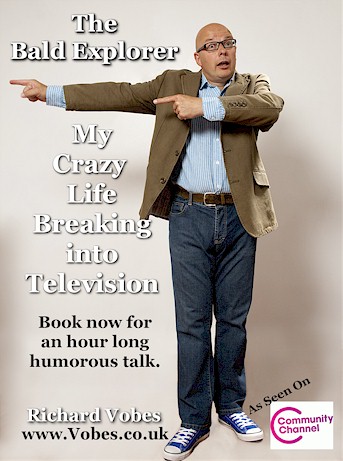 Entertaining Speaker.
Having spent thirty years performing, film making and generally making a fool of myself, I offer an insight to my unusal career and life. I provide a witty, intelligent and engaging talk on a variety of subjects suitable for all. Recent appearence include Lady's That Lunch and Canal Restoration Groups!
My career has included appearances on ITV's The Bill and Poirot. I have been a fire eater and laid on a bed of nails and wrote and stared in Children's televison. I won an award for my daily 30 minute podcast which came from a Beach Hut on the South Coast of England.
In 2006 I lost my left eye and I now wear a prosthesis, but it hasn't stopped me from entertaining. My Bald Explorer series receives fabulous recognition and I have recently published my first children's book, 'Splidge the Cragflinger', an adventure novel for 9-12 year olds, the first of a series of adventures.
Visit to My Talks page to find out more about my after dinner or lunchtime speaking subjects and follow me on my social media sites to learn more.