My Talks
My talks are up to one hour in length and are suitable for all ages.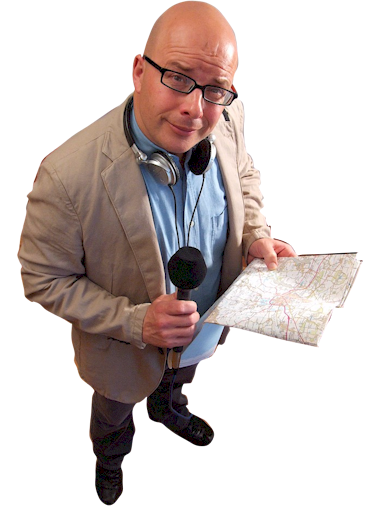 TALK 1: My Life in Television, Entertainment and Filmmaking
My careers teacher asked me what I want to do when I left school and I said I wanted to become a film maker or an actor. He laughed and suggested I become a printer because there was a job available in town. I did become a printer for a couple of years, but decided it wasn't for me. I wanted to follow my dream. This light heart talk explores my journey, including going to mime school, learning to eat fire, lying on a bed of nails and walk on stilts for a living. I reveal how copying a stunt film crew, I climbed derelict farm buildings and crashed through roof tops. I tell my experiences as an extra and walk-on part in many of TV's best loved programmes, such as The Bill, Poirot, London's Burning, Campion, Lovejoy and Waiting for God. I explain how my own children's television series came about and how I make and produce the Bald Explorer documentary series, still airing on the Community Channel on Freeview.
TALK 2: Making The Bald Explorer Documentaries
Many people have ideas for television series, but few get to see them happen. I am lucky enough to have had two of my own creations make it to transmission. The first was a children's comedy slapstick, entitled 'Snug and Cozi' which came to ITV in 1996 and 10097. The second was my documentary series entitled 'The Bald Explorer'. In this talk, I recount the experiences working with large broadcasters and the difficulties it entailed; the process of pitching an idea to the commissioning editors and the various proposal videos I have produced as well as going it alone with a history programme on the Community Channel. I reveal the pitfalls of shooting in public and the rewards of seeing the series finally made and airing on TV.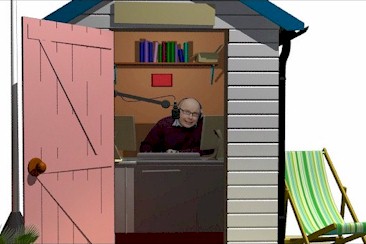 TALK 3 Podcasting to the Globe
In 2005 the podcasting phenomenon hit the British Isles. It mostly went unnoticed by the general public, but slowly the world discovered podcasts and now, with people having a mini-computer in their pockets, their smartphones, everyone can enjoy this wonderful medium. At first the ability to listen to a recorded 'radio' style show on the new mp3 players caused a fuss and worried exisiting broadcasters. I started my award winning podcast, the Vobes Show, in January 2005 and produced thirty minutes of fun, news, interviews and nonsense thereafter for nearly eight years. I recorded a second podcast, The Naked Englishman, from 2006 and it is still going. My talk recalls the experiences making these shows, including podcasting from the Tardis in the BBC scene docl, an audience paid-for trip to America (twice!), beers tasting shows, book reviews, winning an award for the best 'Sounding Seeing Tours' and all the fabulous interviews I did. I appeared on the BBC website as a Digital Citizen and also with my daughter, Georgie, in the Readers Digest magazine.
Training and Workshops
In the past, I have given mime workshops and demonstrations on how to make a podcast - these are still available. Do get in touch if you are interested.